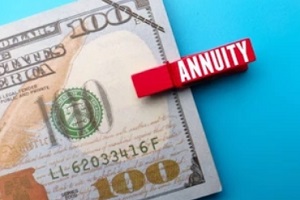 How you save, spend and invest your money is a highly personal choice, but it's not one that you have to make on your own. A financial advisor can help you choose the perfect blend of products that drive you toward your financial goals. One type of investment they may recommend is a multi-year guaranteed annuity, often abbreviated as MYGA.
Here's what you need to know about how MYGAs work so that you can make an informed choice about whether to include one in your portfolio.
What is a Multi-Year Guaranteed Annuity?
A multi-year guaranteed annuity contract is agreed with by an insurance company and allows you to place a lump sum of money into the product, after which you receive equal disbursements for a set period of time—or even as long as the rest of your life.
This is what many people enjoy about the MYGA: it is a guarantee that you will not outlive a portion of your income. However, MYGAs offer additional benefits that are also worth noting.
The Benefits of a MYGA
A multi-year guaranteed annuity is a type of fixed annuity. When it comes to advantages, you should remember that:
1. The Annuity is Guaranteed
The "guaranteed" part of a multi-year guaranteed annuity means that the interest rate you agree to at the beginning is locked in for the entire duration of the contract. Many investors appreciate this feature because they do not have to worry about what the market is doing during their retirement. If the market drops, your MYGA will remain at the same interest rate forever.
2. Taxes Are Deferred
Paying taxes can be a complicated part of investing and preparing for your future in retirement. The good thing about an MYGA is that it is a tax-deferred product. State and federal taxes on the money are not owed until you start to receive withdrawals. This gives your investment time and an opportunity to grow.
3. Budgeting is Simple
An MYGA is an annuity, which means that you can expect to receive payments for the entire duration of the agreed-upon contractual length. If you purchase a five-year MYGA, you will receive the same payments throughout that entire five years. This makes budgeting easy; you always know the amount to expect. For retirees, this is often more reassuring than watching markets fluctuate and deciding how much is safe to cash out.
Is a MYGA Better Than a CD?
MYGAs and CDs are two different products with different advantages and disadvantages. Either one may be a good fit for your situation. If you are weighing your options between the two, keep in mind that:
CDs are issued by banks and MYGAs are offered by insurers
CDs do not always have the same protections as some MYGAs, such as death benefits
CDs are not tax deferred
CDs are less likely to allow penalty-free early withdrawals
CDs will have different interest rates than MYGAs
These factors can influence which product is right for you. One is more focused on keeping your money growing predictably at the cost of less access, while the other is more concerned with providing you reliable payments over time.
Is a Multi-Year Guaranteed Annuity Right for You?
Your unique financial situation will be a significant factor in determining whether or not a multi-year guaranteed annuity is right for you. In general, MYGAs are best suited for those who are approaching or have reached retirement age.
Their growth may not be in line with what younger investors are hoping to achieve along a much longer horizon. Still, the right choice for each person is an individualized choice, and a financial advisor can help you make the calculations to see if an MYGA could benefit you.
Your MYGA decision will also depend on what the balance of your portfolio looks like. If an MYGA will be your only source of income, you may be having a different conversation than if you also have a 401(k), Social Security, and more.
Select the Ideal Products for Your Financial Goals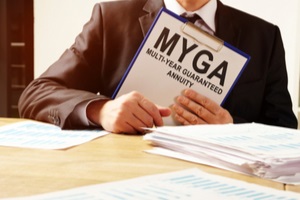 Whether you are just learning about MYGAs and need more information, or you are ready to get started on opening a MYGA for yourself, trust a reputable insurer to provide competitive products.
The experts at Pillar Life Insurance would be happy to answer any questions that you have. Reach out to schedule an appointment to get started or to learn more about our MYGAs and how they can help you achieve your goals in retirement.
---
Get A Personalized Annuity Quote
Try our annuity calculator and see how Pillar Life can grow your investment to meet your long-range financial goals.
Try Our Annuity Calculator