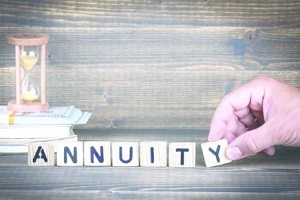 Annuities are available in many forms and with various functions. In order to select one that suits your needs you will need to have a thorough understanding of your own financial situation and research the annuities.
MYGAs, or multi-year guaranteed annuities, are just one type of annuity product, but they are popular for those who are nearing, but not yet at, retirement. One of the benefits of MYGAs is that they help your money grow before you start receiving any payments. If you are considering whether a MYGA is right for you, here are five things that you need to know first.
How a MYGA Works
A MYGA is a type of fixed annuity, but it serves as sort of a precursor to other types. What this means is that you will not actually receive any payments from your MYGA, as you would from a standard fixed annuity, until you surrender it for accumulated cash value or transfer it into another annuity at its maturation. Instead, the purpose of a MYGA is to give your money a place to grow and accumulate for a fixed period of time.
In this sense, MYGAs are similar to CDs, but with some important differences. Discussed below are some of the tax implications that make MYGAs appealing to many people who are close to their retirement target age.
The "guaranteed" part of the multi-year guaranteed annuity refers to the return. In the way in which variable annuities and indexed annuities are tied to the market or an underlying index, MYGAs are not. They will not fluctuate with the market and while this does mean that your MYGA will not grow faster in a bull market, it also means that you will not lose money in the event of a downturn.
Who Provides MYGA Products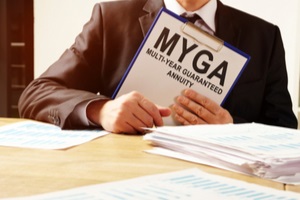 When people contemplate how to save and prepare financially for retirement, they most often assume they will be involving banks. However, banks are not the entities that provide and manage MYGAs, or any other types of annuities. Instead, because they are insurance products, annuities are serviced by insurance companies.
It is important to very carefully select the insurance company providing and managing your annuity. The FDIC does not have the same control and oversight for annuities that it does for banking products, which means that if your insurer goes under, you may be unable to get back the money in your annuity. Therefore, in addition to researching products, it is equally important to research the provider.
How the Return Is Determined
The purpose of a MYGA is to guarantee accumulation for a set period of time as agreed upon in your contract. So, how is that return calculated? MYGAs are a type of fixed annuity, which means that your interest rate will not automatically adjust over time.
Calculating your return is as simple as looking at the interest rate and determining how much accumulation will occur over the time period you selected. The best rates are usually secured at around five to seven years; shorter terms may come with lower rates.
What Penalties Come with Early Access
As with many types of annuities, MYGAs are meant to be left alone. If you attempt to withdraw money early, you may face significant fees or penalties for doing so. If you are concerned about fully committing your money for a certain time, choose a MYGA with a penalty-free withdrawal provision.
Often, this permits you to take out around 10% of the balance each year without facing any fees. Check your contract to view the specific details about amount and frequency if you have chosen a MYGA with withdrawal provisions.
How You Will Be Taxed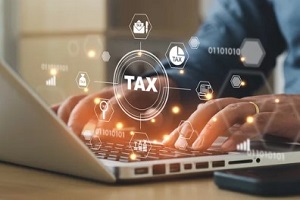 One of the greatest advantages of a MYGA that makes it appealing for soon-to-be retirees is that it is tax advantaged. In other words, your money is allowed to grow before tax instead of after. Compare this to a CD, on which you must pay taxes on any interest earned each year.
In contrast, MYGAs only create a taxable event when you withdraw the money. Exactly what is taxed will depend on how the MYGA was funded; if the annuity was funded from a qualified source (like an IRA), both the principal and interest will be taxed at withdrawal. Otherwise, only the interest is taxed.
Pillar Provides MYGA Options on Your Terms
If you are considering how a MYGA might fit into your overall financial picture, be sure to do your research. Pillar Life Insurance offers a comprehensive online portal where you can make the right choice for yourself and your family when purchasing an annuity. Review the website to get started with your annuity purchase, or to examine other options that may suit your situation.
---
Get A Personalized Annuity Quote
Try our annuity calculator and see how Pillar Life can grow your investment to meet your long-range financial goals.
Try Our Annuity Calculator