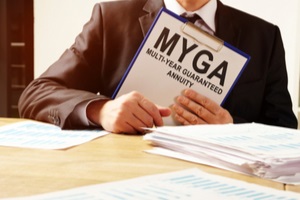 One of the biggest frustrations that many people have with choosing the right investments for their goals is having to explain their situation and values to a stranger. The requirement to meet with investment providers and divulge your financial status and goals can feel invasive.
With the ease of online banking, many people feel more comfortable making those decisions independently, and with the assistance of interactive tools, that can be made even easier. If you are ready to take charge of your financial future without meeting a representative, keep reading to learn more about how to use a multi year guaranteed annuity (MYGA) calculator to make your online planning even easier.
What Is a MYGA?
A MYGA is a type of annuity into which you contribute a single lump sum. Then, based on the length of time that you agree for that money to be committed to the annuity, you will receive an interest rate that determines how much your money will grow during that time period. After the MYGA term ends, you can then roll it into another product to keep growing, or you can convert it to a fixed annuity that begins paying out to you.
The option that is right for you will depend on your goals and where you are in life. If you still have substantial time until retirement, it is recommended to let your money continue to grow. If you are ready to retire, taking payments from an annuity can help to replace your income.
There is also a strategic option in which you can bridge the gap between early retirement and access to retirement vehicles such as 401(k)s by laddering MYGAs, including the annuities you convert them to, or staggering them so that you have multiple annuities that reach the end of their terms one after the other.
How to Use Our MYGA Calculator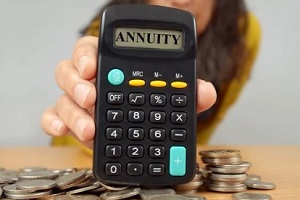 A MYGA calculator is a quick and easy way to get an idea of what you could expect from an annuity based on specific variables. The "Amount you want to invest" section refers to the total lump sum you are prepared to contribute to an annuity. MYGAs do not allow for repeat contributions; therefore, make sure that this number represents the full amount you want to deposit.
The "Term (In Years)" dictates how long your money will sit in the MYGA to accumulate growth. In general, the longer the term, the higher the rate you can achieve which translates to more money for you. However, keep your own financial horizon in mind, and compare rates across multiple terms.
The "Projected Account Value" indicates how much money your MYGA would have at the end of the term based on the interest rate shown. By using this simple calculator, you can anticipate how much a MYGA could help you over the life of its term.
Factors to Keep in Mind
MYGAs are a powerful tool for both those investors years away from retirement and those ready to exit the workforce. However, there are some important caveats to be aware of. As with any financial product, MYGAs have pros and cons that should be factored into your situation:
Permanence: You will often be subject to early withdrawal penalties if you want to access your balance before the guarantee term ends in a MYGA. If you have concerns that you may likely need that money sooner than the end of the term, a MYGA may not be right for you.
Market protection: MYGAs do not track the stock market, which means you are insulated from losses in the event of a downturn. However, on the other hand, you are also left out of significant upswings should the market boom.
Tax advantage: Unlike CDs, MYGAs do not require you to pay taxes yearly. Instead, you pay taxes on your gains when the money is distributed. This allows your balance to work harder to grow faster.
Choose the Annuity Option That Is Right for Your Goals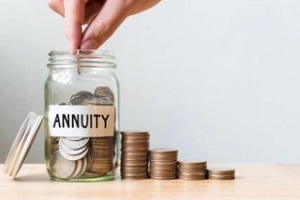 You may not know right now whether a MYGA is the right choice for you—and that's okay. Pillar Life Insurance provides self-service tools and resources, including our MYGA calculator, to help you determine how an annuity can fit into your plans and help you achieve your goals. Spend some time testing your options to see if a MYGA is right for you and how the various options change your strategy.
At Pillar Life Insurance, we put the power to do so in your hands by offering online calculators and a fully self-service portal. You can take charge of your own finances by seeing how annuities might impact your overall picture.
---
Get A Personalized Annuity Quote
Try our annuity calculator and see how Pillar Life can grow your investment to meet your long-range financial goals.
Try Our Annuity Calculator